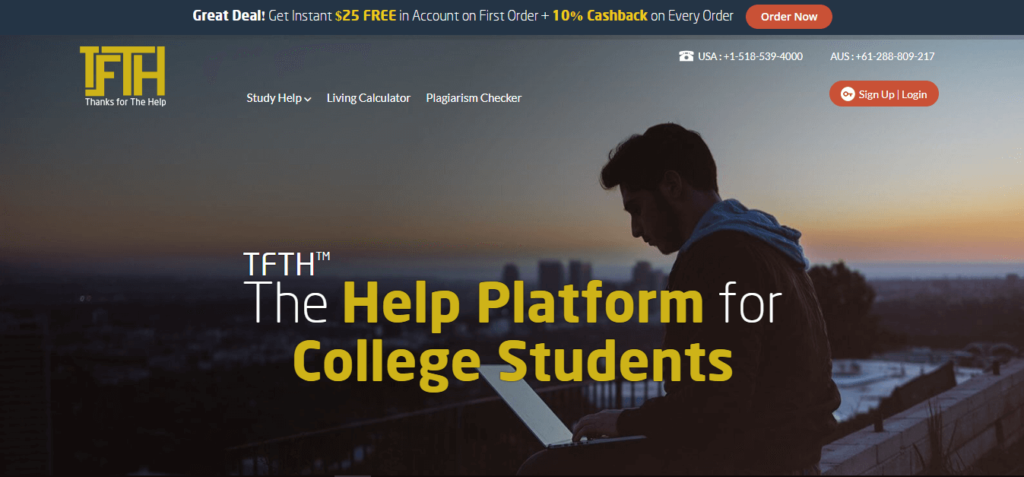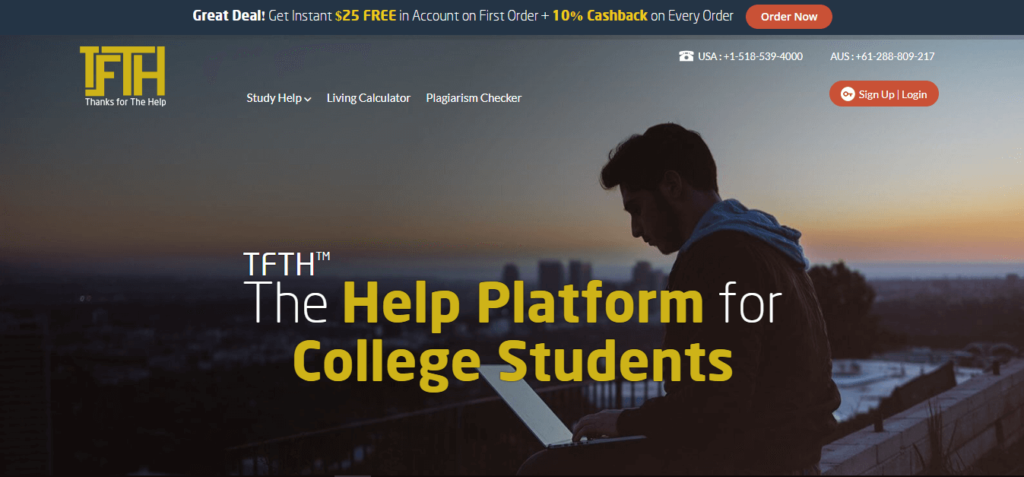 The major appeal of Thanks For The Help is clear: it connects you with seniors from some of the best Australian universities. You can ask any question you want, completely free of charge… or at least that's what the website says. In reality, the service is shady.
The service is also supposed to help with accommodation, but that's just a claim that's been sitting there for months with the "Coming Soon" sign.
In essence, it's an assignment writing service that overcharges for low quality. Don't be tricked: there are no seniors from Aussie universities ready to answer your questions for free. Just customer service representatives, who are trying to convince you to buy an expensive paper.
We have more details in our ThanksForTheHelp review. They will help you decide if this is the right agency for your paper.
ThanksForTheHelp Reviews From The Users
The ThanksForTheHelp reviews on SiteJabber and TrustPilot are not good at all. One of the users says that these are fake people sitting behind their computers and making fake promises until you pay. When you pay, they deliver random paper that's not even related to your requirements.
This user's experience completely described what happened with our order.
There are only a few good reviews of TFTH, but they are unnoticeable when you see how many students blame the company for ruining their grades.
Services and Guarantees
When we first landed on the website, it was hard for us to understand what this service was. At first, it looked like a great platform that connected students and applicants with seniors, whose experience and knowledge could help them overcome lifestyle and studying issues. Yeah; that doesn't happen here.
The biggest complaint in our ThanksForTheHelp.com review is that the service makes promises that it does not deliver.
The actual list of services is pretty narrow: you can order an essay or an assignment in various areas of study.
Don't search for guarantees on this site. There are too many claims and too much text, but none of it makes sense. They mention top quality, 99.8% adherence to deadlines, 24/7 support, and 100% plagiarism free results. Through our experience, we found issues with all these promises. Did you notice that revisions are not even mentioned?
Amendments are mentioned in the terms and conditions, but not in the sense we expected. They reserve the right to amend their terms and conditions without serving notice to the customers. This means that they can change their policies after you place an order, they will not notify you, and the terms that you saw when ordering the paper are no longer valid. Weird.
Prices and Discounts
ThanksForTheHelp does not disclose its prices.
They tell you that you get $25 free in your account on the first order. What does that mean? No one knows. Plus, you'll get 10% cashback on your following orders.
We asked the representative to give us a price, and she literally tortured us with all kinds of questions before finally giving us the price of $120 for a 3-page essay with a deadline of 7 days. That's $40 per page, and it's a lot.
Quality of Services
Most ThanksForTheHelp.com reviews that we saw warned about the service being a scam. We're sorry to say that our experience with its team provided that.
There were several issues with the order:
It came 6 hours later than the deadline
The content was entirely plagiarized
We asked for revisions and the customer service agent didn't bother responding
We paid an expensive price for a totally useless paper
The writers from ThanksForTheHelp are not experts. They do not pay attention to your instructions. Our writer didn't even read the topic we assigned. She chose a random topic to her liking, and rewrote a sample that we immediately found online. It was a free sample provided by another writing service. This writer just paraphrased it.
Customer Service
Officially, ThanksForTheHelp.com has the worst customer support system in the industry. It's completely fake! Their approach is to make you believe their false claims, which do not correspond to the reality.
Don't believe their claims that these are senior students from universities. They are random employees, whose only goal is to convince the visitors to pay money for papers that do not have any value.
Conclusion for ThanksForTheHelp.com
We've tried many other services so far. We thought we've seen everything, but TFTH still managed to surprise us in a negative way.
To conclude this Thanks For The Help review, we'll just say that the company did not meet the expectations we had. They charged too much for a paper that didn't work. They did not provide revisions. Revisions aren't even mentioned in their terms and conditions. The customer service representatives are aggressive before you place an order, but nowhere to be found when you really need them.
Average Rating:

1.0

out of

5

(

2

votes)
scam!
WARNING: this is a scam! There's nothing free on this site. They just want you to buy a paper. I did, and I regretted every cent I paid for it.
4 years ago
Never ever use this service
This is a terrible service. I have a programming task and ask them for help. They gave me a wrong piece of code have nothing related to my requirement. I asked them to set up google meet with their expert to explain how their task satisfy the requirement however they never did.
Everyone please do not use this service, you will lost money. This is a cheating service, they get your money and doing nothing.
I am in Australia, the Australia phone number on their website does not exist. The office address on the website is also a fake address. This is a scam service, please be very aware
3 years ago